Our goal in founding
After The Storm
was to pursue our personal joy in
playing music and sharing it with
others. We work closely with Hope for
Rare Diseases, a not for profit ministry
which hosts worship gatherings in and
around central Florida.
We are available for concerts, praise
and worship services and special music
to churches, Christian seminars and
retreats, and group meetings in the
surrounding area. We also can play
small gigs like your club party or special
event. When you need quality
entertainment just give us a call.

George and Susan Bell
T

hey love bringing music
into every situation they
can!
We were there when they
wrote all those wonderful
songs of the 60's and 70's.
We loved them then and love
to sing them now and bring
back those fabulous
memories!
We love contemporary Christian
worship music and really enjoy
leading worship. We lead worship
at local churches and home
groups, and are part of an
International ministry where we
lead large worship gatherings.
© Copyright AftertheStormBand.com 2013 For information contact
info@afterthestormband,com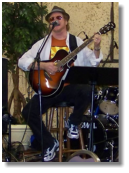 We are available in CENTRAL FLORIDA
call us at
352-217-5475




After the Storm Band
is a collection of seasoned musicians from
professional musical backgrounds who have come together because
they LOVE music and don't want to stop playing it. Our 5 piece band
adds a full dimension to your favorite hits from the past. We
encourage you to dance, sing along, or just tap your foot while you're
listening. Music was created to make you feel good and we love being
the vehicle to achieve that goal!
Like a fine wine we've gotten better with age!